Medical Spa in New Jersey
Advances in medical technology have benefited all areas of medicine, including aesthetics. Dr. Roel Galope at Lasting Impression Medical Aesthetics in Fair Lawn, New Jersey, offers state-of-the-art laser treatments for a number of cosmetic concerns, such as wrinkle reduction, reducing unwanted hair, treatment for varicose veins, and fading skin tags.
Light EVO Series Laser Treatment By Lasting Impression - New Jersey
Are you a busy professional and/or parent who wants great looking and lasting results in a New York minute? Well, we have good news for you. Lasting Impression Medical Aesthetics is equipped with the best device in the industry. Quanta's Evo Light Series is designed for quick and easy laser hair removal and hair reduction, for benign pigmented and dermatological vascular lesion (birthmark) removal, and for wrinkle reduction.
Designed in Milan, Italy this new technology boasts positive testimonials from almost anyone who has undergone its procedures.

The Evo-Light Device is a popular and effective piece of technology for hair removal and all kinds of skin conditions including acne scarring and lesions. This powerful laser machinery make treatments relatively painless requiring no downtime, and does the job faster than most other devices. 
If you've been practically obsessed with tweezing, shaving, waxing or using commercial cream hair removal methods because you can't stand unwanted facial or body hair, you might want to consider a more permanent solution.
Laser Hair removal and reduction uses a concentrated beam of energy to heat up and actually damage the hair right at the follicle. The state of the art Quanta Evo Light Series provides safe, fast and highly effective treatments for hair removal. Results from the Evo Light Series laser treatments significantly longer lasting results than the other hair removal methods.
Touch up treatments for laser hair removal are generally required every 6 to 12 months.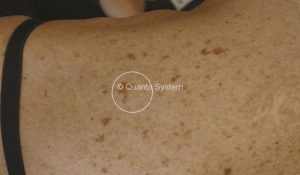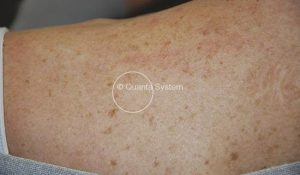 The Evo Light Series is designed to provide safe and successful treatment to remove benign pigmented lesions including moles. Many people seek removal of lesions that are large and/or in a visible location on the body.
While these lesions are generally and most often harmless, the unsightliness of them can contribute to low self-esteem or poor self image. If this is the case for you, there's no need to suffer any longer. Dr. Galope of Lasting Impression Medical Aesthetics will customize your treatment for your particular concerns and will work with you towards the results you desire.
Dermatological Vascular Lesions
If you're bothered by a dermatological vascular lesion (otherwise known as a birthmark) you can have it safely and quickly removed with the Evo Light Series laser technology. You deserve to love the way you look.
Speak with Dr. Galope about how this laser treatment can work for you, the number of treatments it will take to fully remove the dermatological vascular lesion and about whether or not these treatments are right for you.
Since your skin naturally produces less collagen and elastin as you age, wrinkles are an inevitable part of the aging process. Combined with environmental factors such as sun and toxin exposure and lifestyle factors which would potentially cause dehydration, and wrinkles can easily become more pronounced. 
The Evo Light Device is an amazing technology for decreasing wrinkles, taking years off your look. Allow Dr. Galope to design a treatment plan that's right for you.
No. Laser hair removal does not make hair grow back thicker. In fact, the opposite usually occurs and hair tends to grow back finer. The absence of unwanted hair can be maintained with follow up treatments every 6 to 12 months.
With a qualified medical professional, laser hair removal is considered safe and effective. However, some people may experience minor side effects after treatment such as redness, irritation or tenderness of the skin. Some people may experience minor changes in skin color around the treated areas. These skin color changes tend to fade in time and skin returns to normal. However, people with darker skin types are generally at more risk than people with lighter skin types for permanent hyperpigmentation following laser treatments. Additionally, while laser hair removal is more permanent than other methods, it's also more costly.
Laser skin treatments are generally considered safe when administered by a board-certified doctor. For darker skin-types, permanent hyperpigmentation is a risk, so always ask your doctor about whether or not laser treatments are for you, AND make sure your qualified practitioner is using the best, state of the art equipment for your procedures.